---
1. How do I know if you are a bona fide dealer in firearms?
Go the BATFE's FFL E-Z Check page at https://www.atfonline.gov/fflezcheck. Then enter in the following code 9-77-xxx-xx-xx-01627. You can also contact the California DOJ at 916 227-3694 and ask if Ten Percent Firearms has a CFD number that authorizes them to conduct business in California.
2. How long is the waiting period in California?
The waiting period for the purchase or transfer of handguns and long guns is ten (10) 24-hour periods from the date and time of the acceptance of the DROS information by the CA DOJ and the assignment of the unique DROS number. Firearms cannot and will not be released to a purchaser before the end of the (10) 24-hour periods.
Further, a purchaser will have to resubmit their DROS information and pay the DROS fee again if they do not pick up their firearm within 30 days of original DROS submittal.
3. What does it take to buy a gun from Ten Percent Firearms?
In order to purchase a firearm from us you will have to come in and start your background check and 10 day wait in person (also known as DROS paperwork). After (10) 24-hour periods then you will have to come back to pick up your firearm. We cannot and will not start your DROS paperwork by phone or mail as we are required to get your signature, copies of your driver's license, utility bills, and swipe your drivers license into the computer. This cannot be done by mail.
4. What is DROS and how much does it cost? When are DROS fees due?
DROS is an acronym for Dealer Record of Sale. DROS fees for a single transaction of any number guns is $25. Your DROS fees are due at the time of DROS submittal by Ten Percent Firearms, also known as the start of your ten day waiting period. We must collect your DROS fees at that time as whether or not you pass the background check we are charged DROS fees. Additionally if you do not pick up your firearm within a 30 day time frame from DROS submittal, you must start the DROS process over again and pay the appropriate fees again.
If you want to check if you are eligible to take possession of a firearm, you can utilize the Personal Firearms Eligibility Check Program before you submit your DROS information.
5. What kind of handguns are legal in California?
The California legislature in its infinite wisdom has gone to great lengths to protect us from "unsafe" handguns by establishing a handgun safety testing procedure and placing "safe" guns on the Roster of Handguns Certified for Sale. Refer to the Roster of Handguns Certified for Sale before ordering a handgun, because I can't sell you a handgun not on the list.
6. What is a Handgun Safety Certificate? Do I need one?
The Handgun Safety Certificate (HSC) is explained in detail in the glossary section of this website. You will need an HSC if you want to buy a handgun from Ten Percent Firearms or you will have to meet an appropriate exemption classification.
7. How many handguns can I buy at a time?
The State of California has determined that you should only buy one handgun in a 30 day period. Handgun transactions related to law enforcement, private party transfers, returns to owners, and other specified circumstances are exempt from the one-handgun-per-30-day restriction.
8. Do I have to buy a gun lock with my firearm purchase?
If you do not have a UL listed gun safe as defined by the CA DOJ, you are required to buy an approved FSD (AKA gun lock) at the time of sale or show us a receipt for an approved FSD that you purchased in the 30-days prior to taking possession of your firearm. Many firearms also come with a gun lock and that may be used as well.
9. I don't live near Taft, what are my options?
Despite what some dealers might do, our company policy is that we must physically check your ID and you must be present to start your DROS. This cannot be done by mail. As a result, if you are going to DROS the firearm through us, you must come to Taft once to start your ten day background check and then return 10-30 days later to pick up your firearm.
We do offer shipping. We can ship your firearm to your local FFL for local transfer. Please utilize our secure shopping cart for your ordering convenience.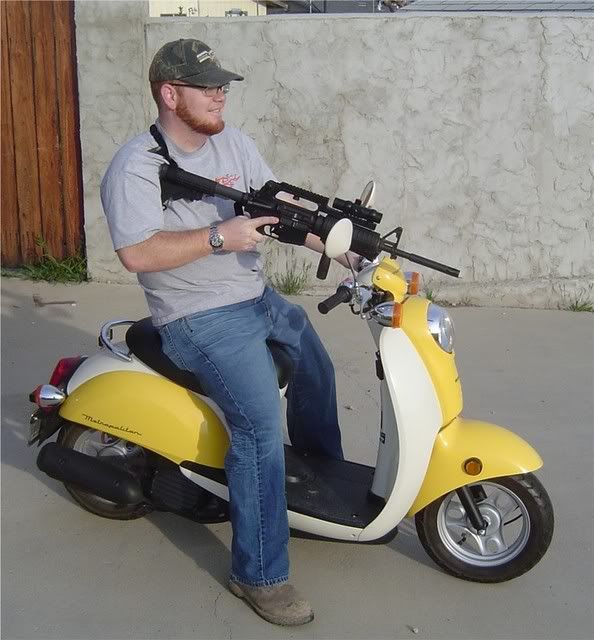 This scooter will never be for sale!